So I've been practicing Brazilian Jiu Jitsu for a few years now... just around 4 to be exact. I train at a small gym in West Jordan, Utah. We have been the best in the state for 4 years running... even though we only bring a few competitors to tournaments in comparison to other gyms around town. We can attribute it to the attention to detail our instructors, namely our head coach Rob Handley, give when teaching us new techniques. Rob has the experience needed to illuminate the smallest details of a technique to increase its effectiveness. He knows how to pick techniques that will work for everyone... then adapt them to meet the specific attributes of a given fighter. Tall, short; skinny, "thick"; strong, not-so-strong... you name it, he's got the answer. I feel very fortunate to have such a great place to train and learn all there is to know about Jiu Jitsu. We also have the opportunity, once or twice a year, to learn under a Grand Master of Jiu Jitsu, Flavio Behring. Master Flavio learned directly from the source of what we know as Brazilian Jiu Jitsu today, Helio Gracie. I have a few pictures of Master Flavio "smashing" me during the last seminar we had: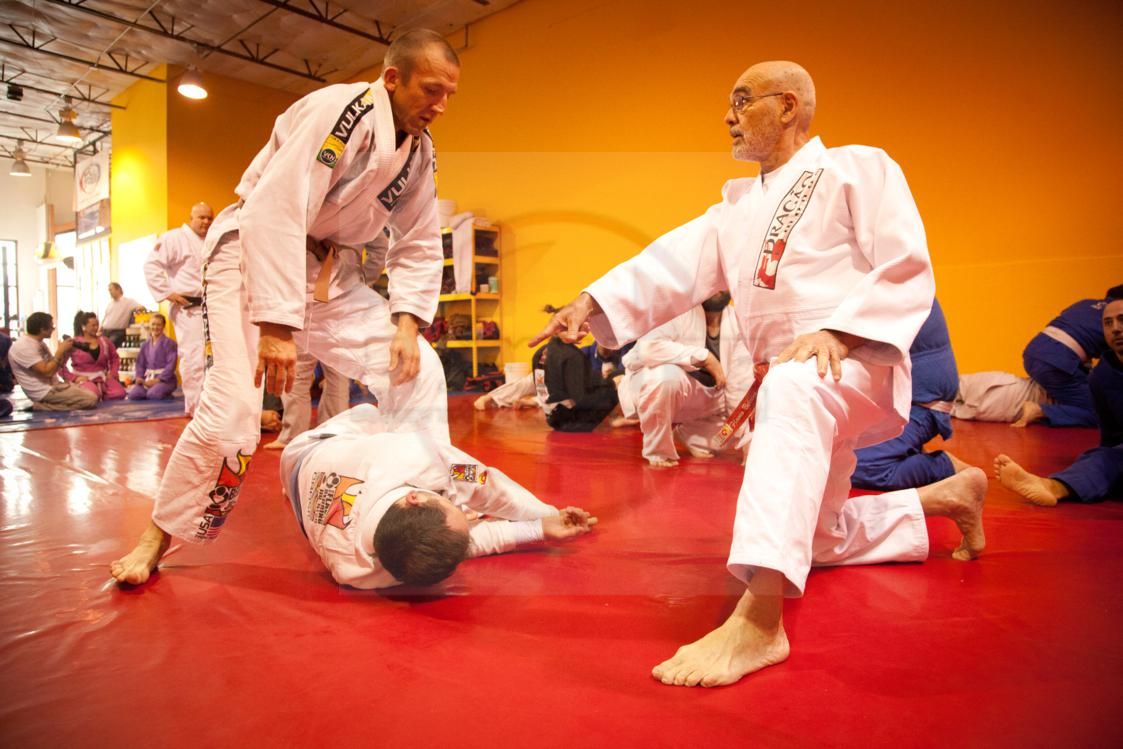 It's such an honor to belong to such a lineage as this.
Of course, training at a gym where the instruction is such high caliber leads to some pretty heavy competition amongst teammates. Lately I've felt that I'm at the bottom of the pile, so to speak, in regards to this notion. All of the guys who are ranked similarly to me (I'm a blue belt with 3 stripes) seem to be progressing at a much faster pace, I can't seem to keep up. To add insult to injury... or in this case, injury to insult... my foot has started to bother me quite a bit. I can't put pressure on the outside edge of my left foot without considerable pain. I don't think it's broken, I don't know what's wrong with it to be honest, it's just causing a world of hurt. But I digress. I am going to see if there are some things I can do to step my game up and progress faster and remain more competitive with my fellow blue belts.